Bilateral Corrective Tattoo
Bilateral implant based breast reconstruction with previous tattoo having faded despite being done twice in physician office. Now fixed and long-lasting.
3D Corrective Healed
Bilateral implant reconstruction.
Top - Doctor's office tattoo.
Bottom - Corrected and healed.
Bilateral Corrective Tattoo 1st Application.
Unacceptable doctor's office tattoo. Shown here is the first application stage of correction.
Bilateral Corrective Tattoo 2nd Application
2nd application with realistic details added to complete the tattoo process. Healed result will be beautiful for years to come.
3D Corrective
"Bulls-eye" appearing tattoo done in a doctor's office, flat and faded. Bottom is corrected realistic tattoo.
3D Bilateral - Healed
Old nurse tattoo faded away. Middle picture tattoo done July of 2015. Bottom picture - March 2017... HEALED
Bilateral DIEP Flap Corrective
Bilateral DIEP flap with nipple reconstruction and previous doctor's office tattooing that she was unhappy with, but I happily fixed her issue!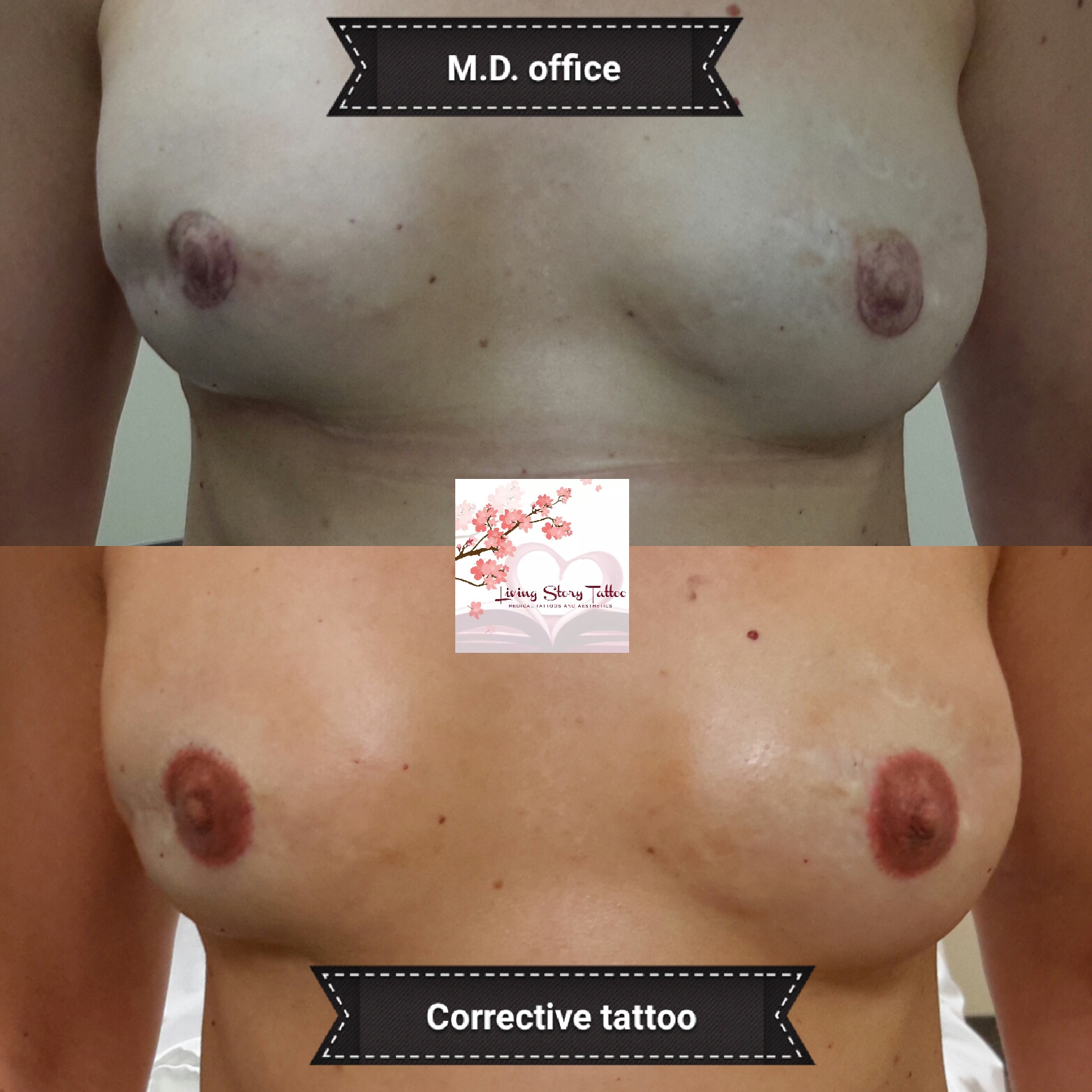 Corrective Tattoo
Patient unsatisfied with undesirable physician office tattoo. She said it was the first time in 13 years that she had felt normal looking again.
Areola Pigmentation and Corrective Tattoo
Left breast physician office correction and right breast areola pigmentation for symmetry.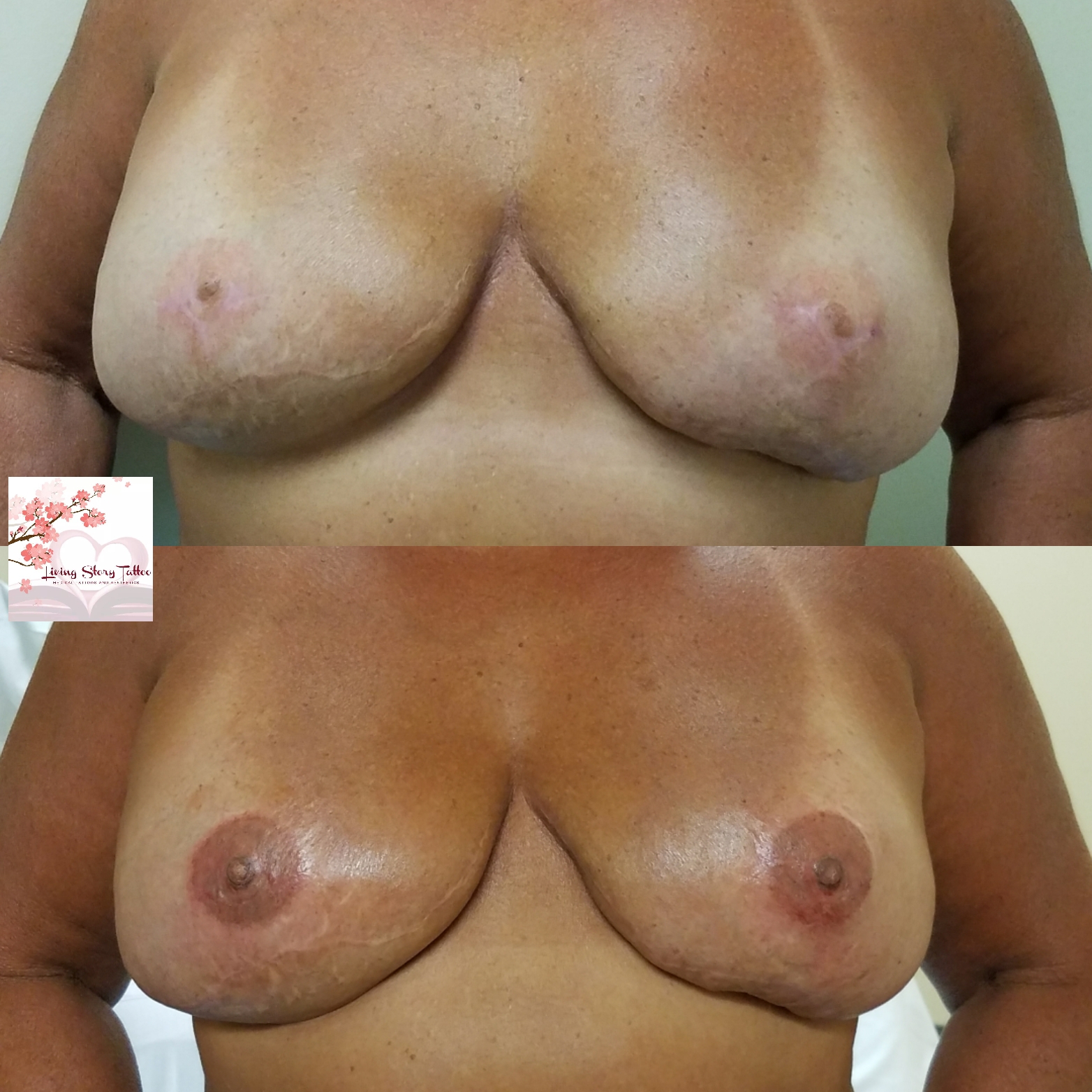 Bilateral Corrective Tattooing
Previous implant based reconstruction with physician office tattooing, done by myself, back in 2010. Later she had buried DIEP flaps with nipple reconstruction, but unfortunately, her unsightly tattoos were left intact over a great reconstruction. She came to me to have them fix, which I did happily for her.
Bilateral Corrective
Bilateral Corrective tattooing using A.R.T nipple tattooing techniques.
Unilateral corrective
Old, flat, unrealistic tattoo brought to life!
Bilateral corrective
Poorly placed and asymmetrical areolas were corrected despite scar tissue from previous technician. These will last and remain beautiful.
Bilateral corrective Healed 1st pass
Areola healed, only details and nipple definition added on touch up
Unilateral corrective
Fresh tattooing shown here over tons of scar tissue and unacceptable medical assistant tattoo. Better shape and realistic tattoo achieved
Corrective tattoos HEALED
Corrective/cover up tattoo on one side and completely creating one to match. Healed selfie sent in from client.
Bilateral corrective
Bullseye tattoos again… this is never good enough. Fresh tattoo correction here.
Bilateral corrective Healed 1st pass
Minor touch up done to nipple and details only. Very long lasting and beautiful.
Bilateral corrective
Bilateral Tram reconstruction with old faded tattoos. Corrected and lovely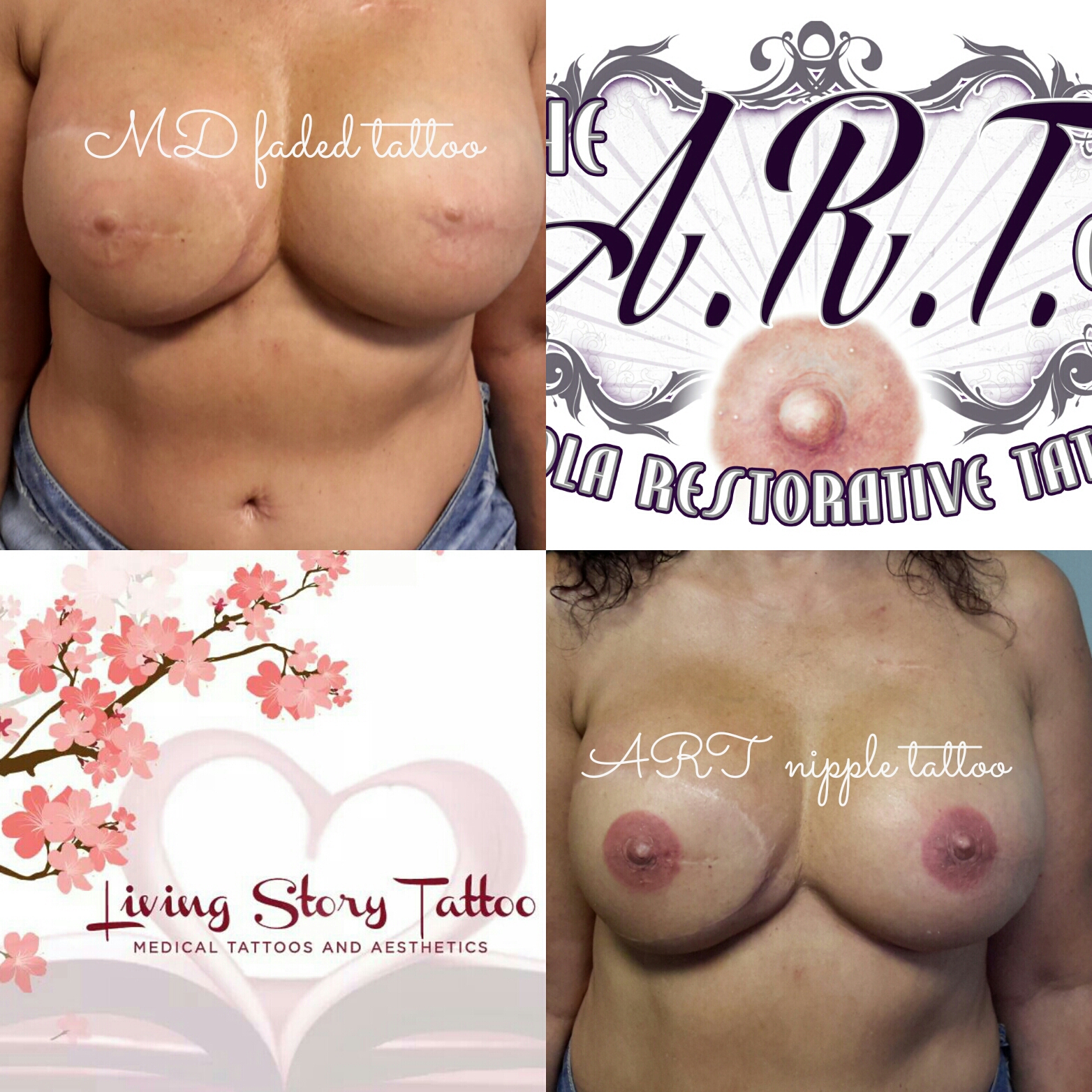 Bilateral corrective
New tattoos cover up Old faded MD
Unilateral corrective
MD old tattoo too high and misplaced. Thankfully it faded away. New tattoo here is fresh
HEALED 3D NIPPLE TATTOO
HEALED SELFIE. MATCHED BEAUTIFULLY. 3D on flat skin.
Bilateral implant corrective tattoos
New tattoos cover up Old doctor
Bilateral implant
MD had injected ink when making the nipple reconstruction. 1st appt to correct. Fresh tattoos will become less red as they heal
Bilateral corrective
Top is MD office tattooing. Pepperoni bullseye style.I corrected in 2016 first, then she returned for additional details to be added in the following picture.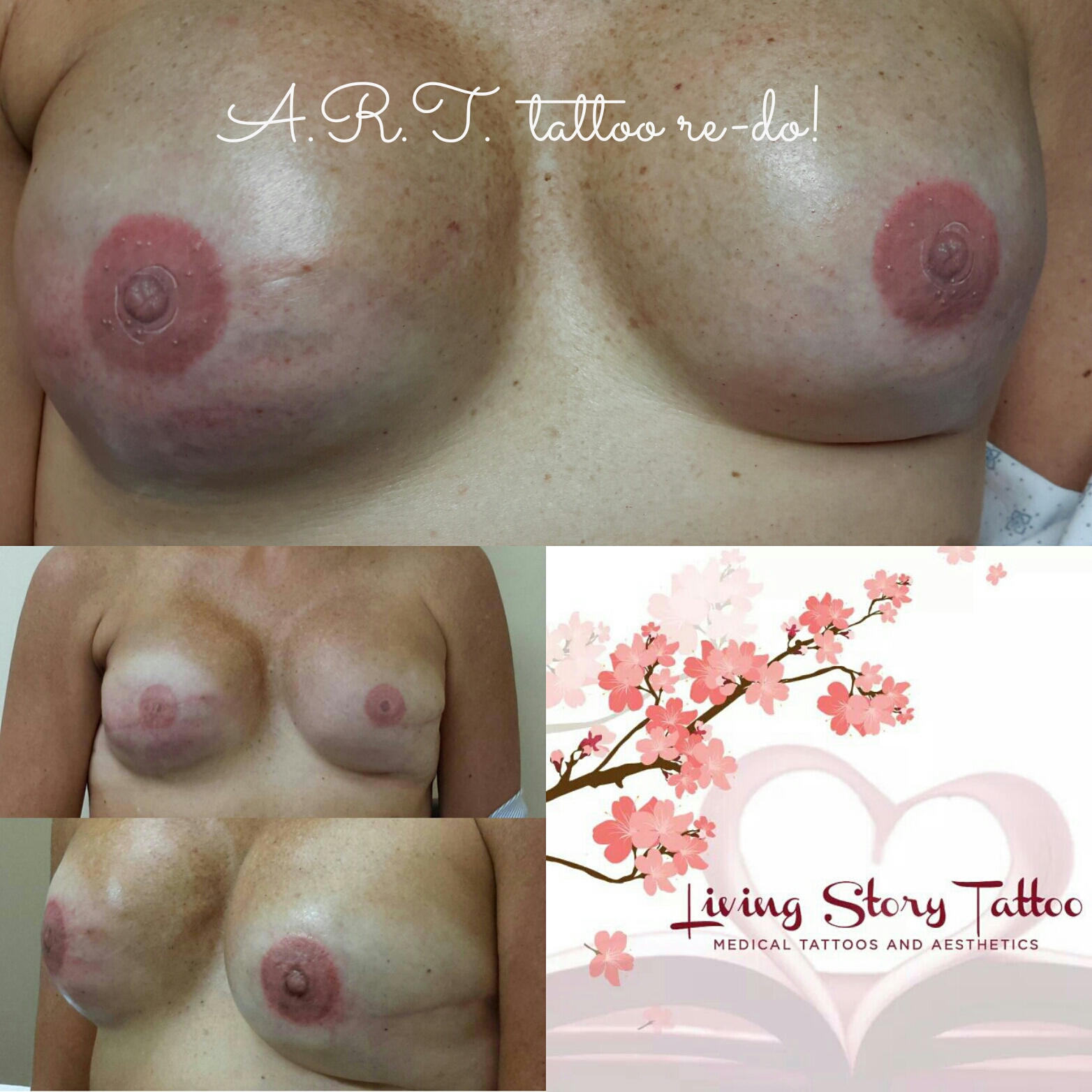 Bilateral corrective additional details added
Previously corrected then more details added. ART makes the difference
Mixed recon
MASTECTOMY #rescuetattoos done today on this lovely! Left #breastreconstruction with implant, right with #latissimusdorsi flap after #radiationtherapy . She originally had these done in her plastic reconstruction office by an aesthetician. She walked in unhappy with the faded #areolatattoos , dot appearance of the nipple and misplaced locations. #byebyebullseye
Mixed recon
How I fixed these bullseye tattoos. She'll return in 10 weeks for perfecting session and be done
Mixed recon
Right LD after radiation, left implant reconstruction. Corrected the old faded bullseye tattoo.
Bilateral implant corrective
#MASTECTOMYTATTOOO #correctivetattoo shown her. She expressed her unhappiness with her #nippletattoos done in a local salon costing $400....twice. 😢 Today I concentrated on more lateral placement, covering more scar and a better color with a real #3Dnippletattoo appearance. #byebyebullseye She'll return to continue to correct and add tons more detail #realism to the #3Dnipple ! Redness will subside from fresh tattoo as it heals #nomorepepperonis
Corrective side view
Corrective close up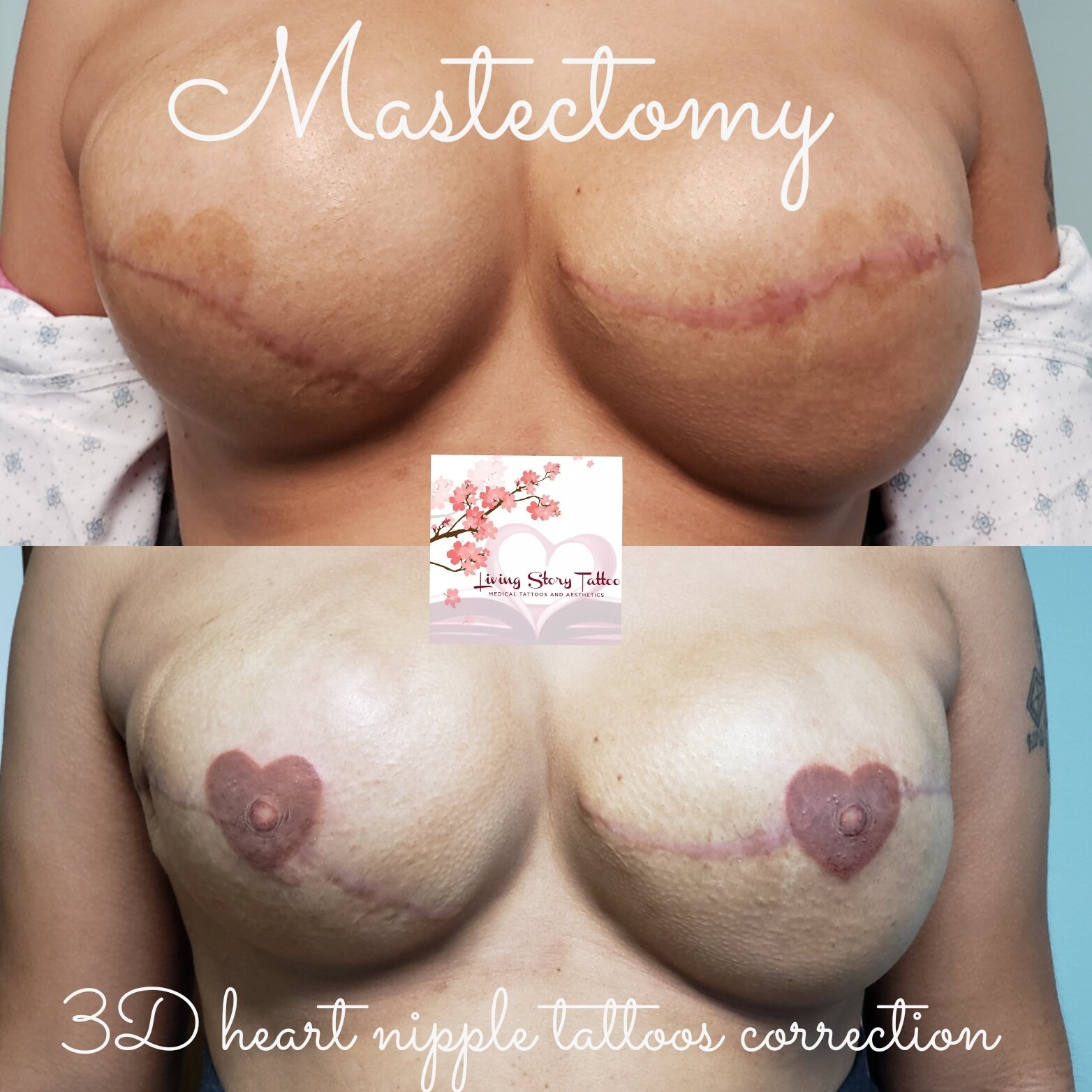 Corrective Heart tattoos
Previous artist's work faded. Tattoo rescue accomplished! Fresh and reddish here. Will return for top off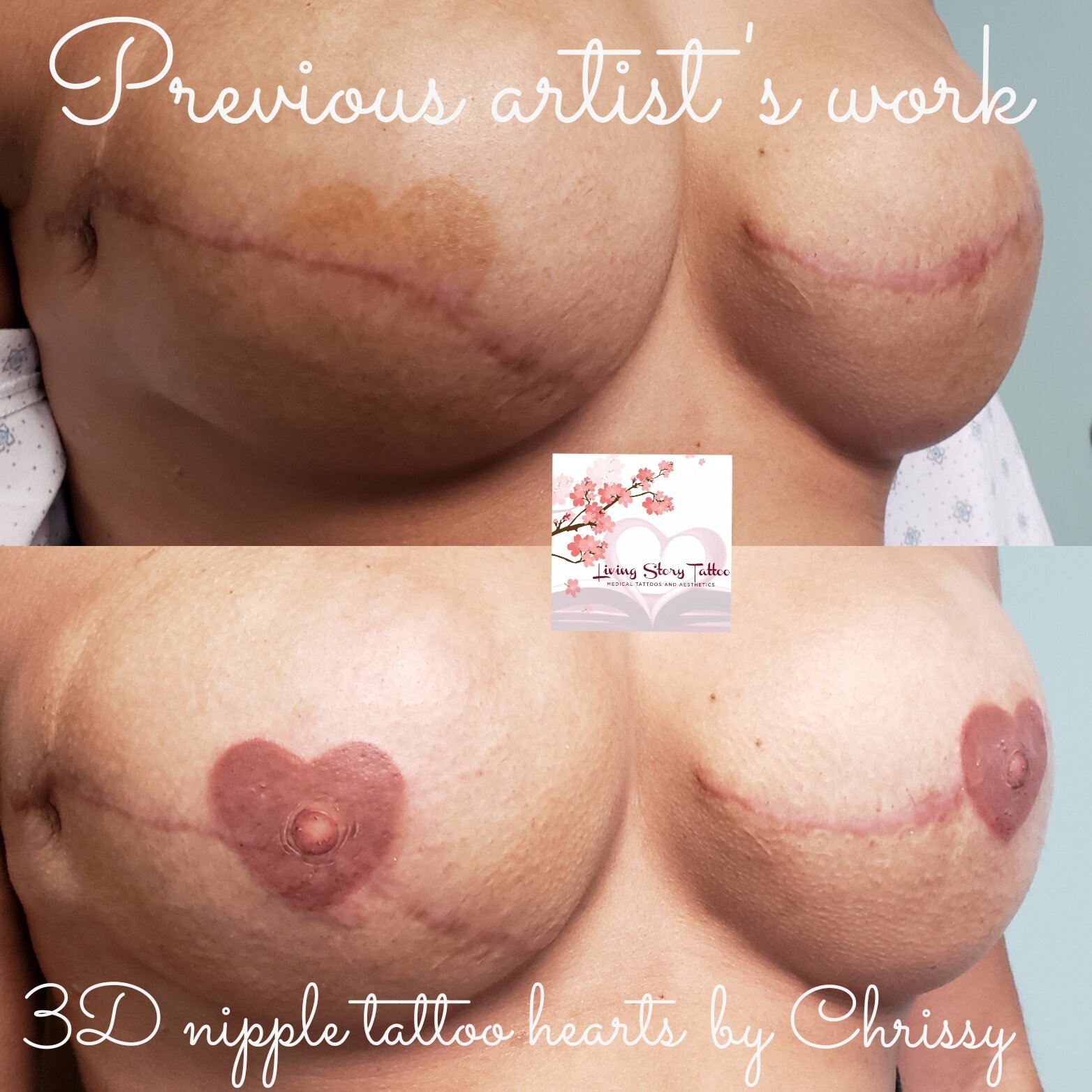 Corrective Heart tattoos
Bilateral implant corrective
#MASTECTOMYTATTOOOS shown on this gorgeous woman. 1st stage of multi-stage #rescuetattoo process. She had #nipplesparing #MASTECTOMY with #nippletattooing in her #reconstructivesurgery physician's office done twice... she was unhappy with placement and previous tattooing results. Her #nipples are full of #scartissue from previous technician repeatly #tattooing fragile tissue 😥 and going #toodeep 🤬 She'll return for additional #correctivetattoo visits to achieve a more balanced, #natural #3Dnipple appearance. This tissue must be respected and treated by a knowledgeable, #experienced #tattooartist